For anyone traveling in Eastern Europe and looking to spend some time outdoors, Durmitor National Park has lots to offer — canyons, glacial lakes, mountains, and plateaus. The challenging hike to Bobotov Kuk's summit offers a diverse mix of scenery and a rewarding end view that spans multiple countries. We cover logistics around a two-day northern approach to Bobotov Kuk starting and ending in Žabljak.
Distance: ~12.5 miles.
Elevation: 8274 ft / 2522 m
Duration: 1-2 days (you can do it in ~10 hours in a roundtrip day hike). We split it up into 2 days.
When: Summer and early Fall (we went September 11).
Difficulty: Moderate (a lot of scree and sun exposure).
Good to know:
Parking & fees. Pay 3 Euros for park entry and park in the parking lot of Crno Jezero overnight.
Bring a water filter and fill up often. There were only two water sources (a lot of the lakes dry up). One of the water sources was muddled with dirt and had livestock living close by. The other we couldn't even find.
Stove compatibility. Screw-top propane tanks are almost impossible to find. Instead, they use puncture based propane stoves, available at the grocery store. For us, this meant eating our meals cold, a nice introduction to "stoveless" hiking — though warm meals are a nice luxury.
Bring hiking poles or hiking boots. There was a ton of scree, so we were grateful for our poles. Doable to hike without them, but you can easily slip or twist your ankle. So ideally, you have hiking boots if you don't have hiking poles.
Day 1 - Crno Jezero, Žabljak to Katun Lokvice
3.5 miles, ↑ 5,562 feet elevation gain (GPS log)
Žabljak, a charming ski town, is a great launching point for the hike. It's home to bakeries, supermarkets, restaurants, and plenty of places to stay –and a great place for stocking up before your hike. To reach the trailhead from the center of Žabljak, follow the signs to Crno Jezero (Black Lake). We were lucky to have a rental car to drive there, as its quite a long walk from the town center to the trailhead.
Crno Jezero has a huge parking lot where you're free to park your car overnight. We lucked out and got a spot right in front of the ranger booth at the start of the path. There we paid a small fee and the ranger took down our names. Before setting out you'll want to check the weather with the ranger, as Bobotov Kuk has a reputation for unpredictable weather.
We set off through a corridor of trees and tea, fig, and mushroom vendors, and found ourselves in the company of families and visitors enjoying a day at Crno Jezero. The end of the path brought us to a majestic reveal of the glacial lake Crno Jezero and the last bathroom before the start of the hike. We took in the sights and then split off the main road to head towards Katun Lokvice.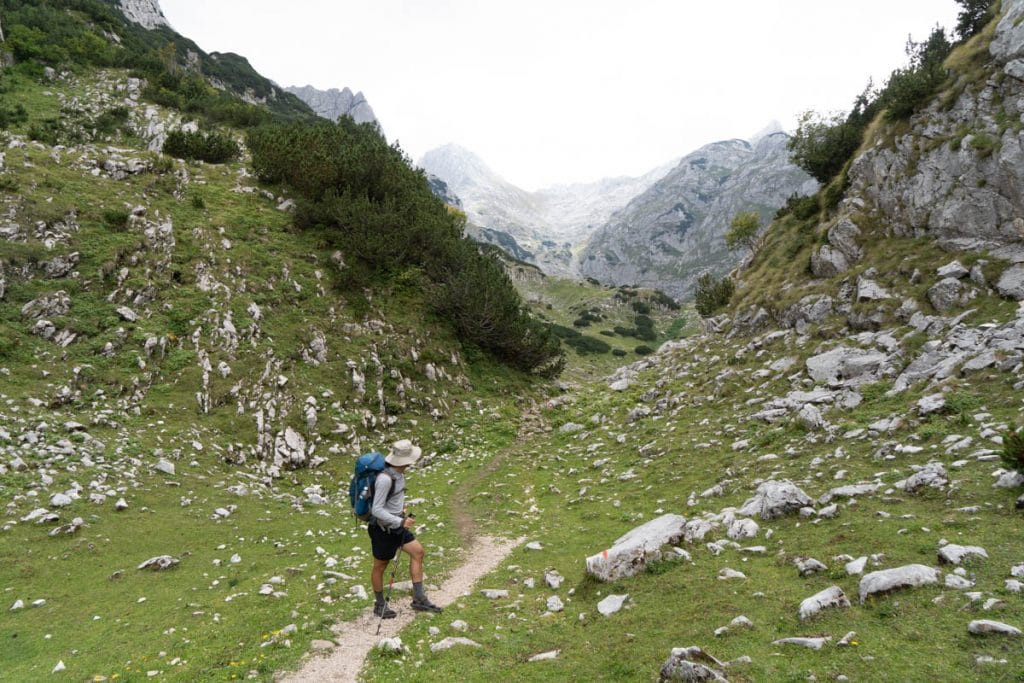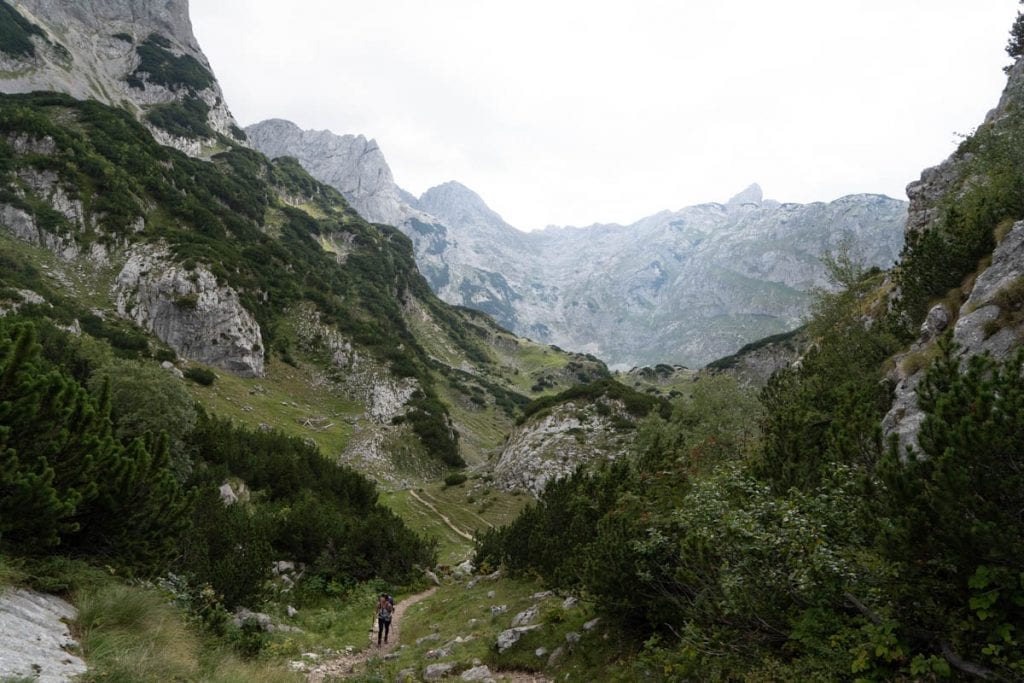 It takes around 1.5 - 2 hours to reach the Katun Lokvice campsite and to my delight, the path there is lined with conifer trees and raspberry shrubs. The path is straightforward (rocks are marked with a white circle with a red outline) until you reach a rock spray-painted with signs that pointed in all directions. It took a crew of confused hikers to decide to take the path to the right. Following it, we were eventually brought to a sign that proudly proclaimed 'BEER.' Which was a big feat considering that someone or a donkey had to lug it up deep into the valley. The sign was fixed on the house of a farmer who manned the campground alongside his farm and few livestock. The campsite is free, though there's a small fee if you want to stay in the (barebones) lean-to. The best part is the backdrop opens up to a spectacular view of the mountains.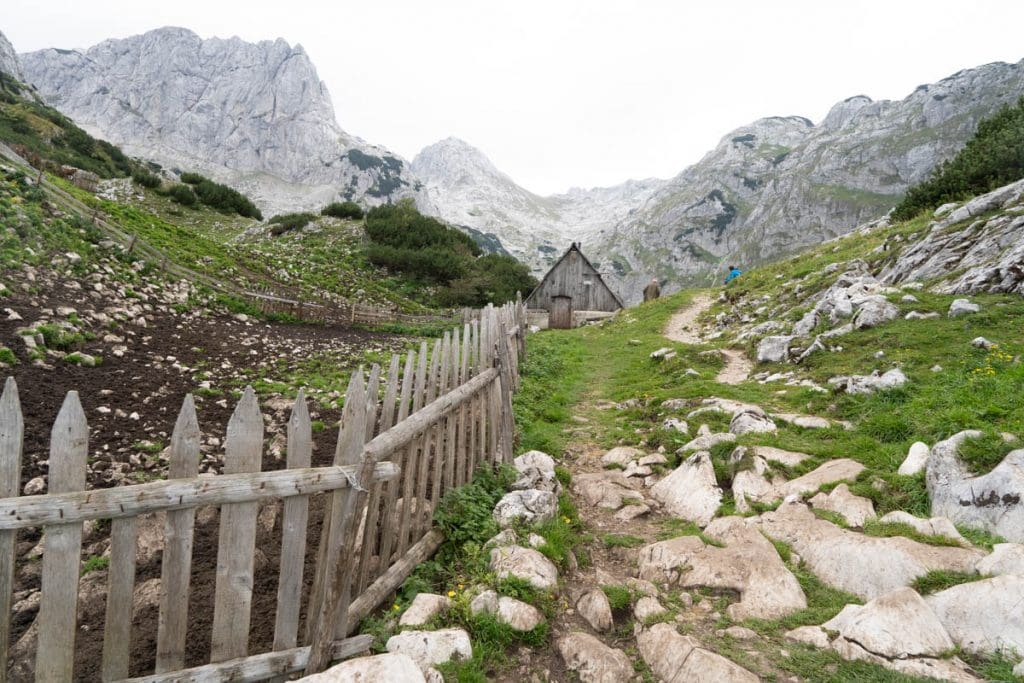 The campsite is conveniently near a water source (just continue on the trail for another 3-min and you'll see the word 'voda' scrawled on a rock ?). When we came across it, the water source was a trickle of a tiny stream that used to belong to a lake that has since dried up – and from what we heard, other campsites that use to have a water source had entirely dried up, though this may differ season to season. The dribble of water was a little murky and close to livestock so we used a Sawyer filter in case.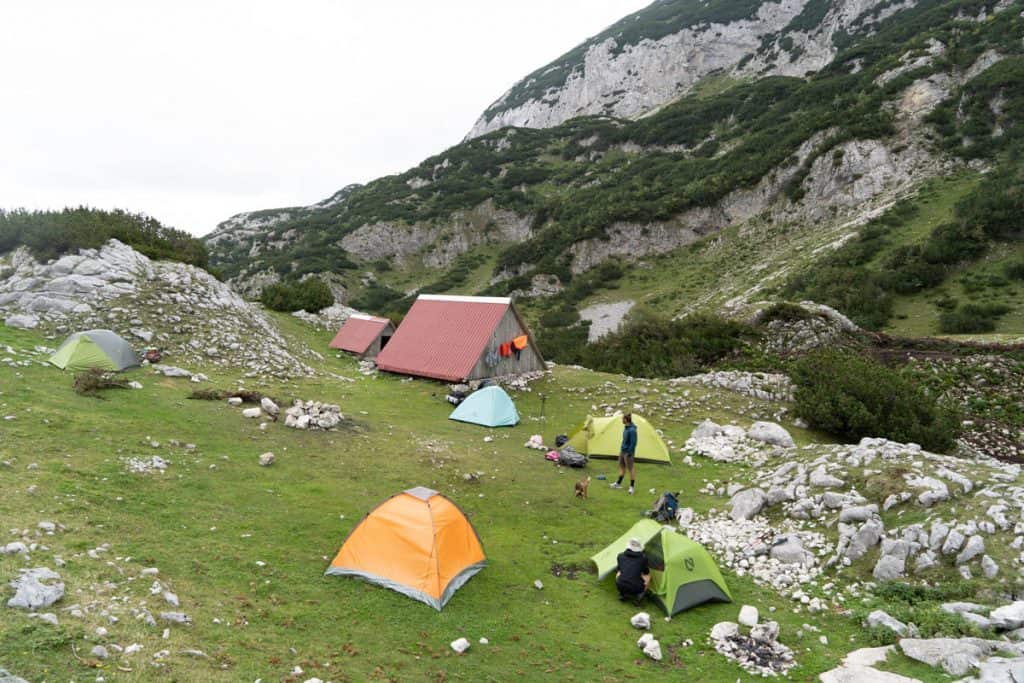 There were five tents set up at the campsite, filled with hikers from Germany, Russia, and Israel. Together with the groundskeeper a few of us got a fire going and as the sky turned to dusk, our motley crew gathered to dance around the fire and exchange stories. While the air was chilly, we were warmed by the fire and the Nikšićko beers supplied by the groundskeeper. At one point, in the dark of the night, we heard the approach of an ominous jangling sound coming from beyond our view of sight. Our conversations tapered off in anticipation of what was to arrive – but we soon burst out laughing when we realized it was simply a flock of sheep that was returning home. They flooded through our campsite and returned to their pen beside the gatekeeper's home.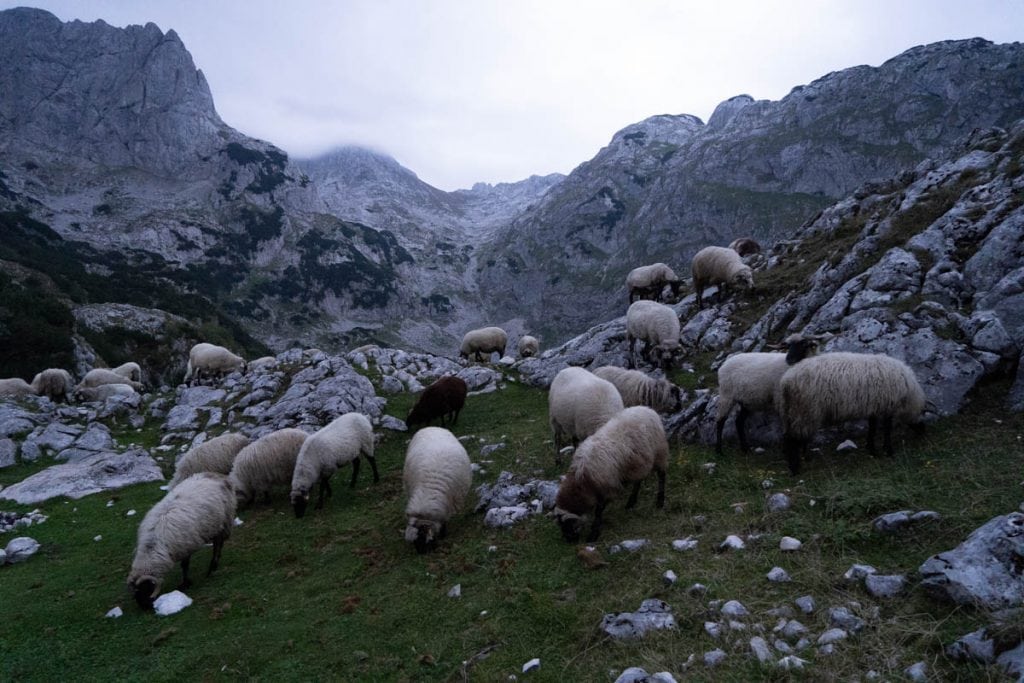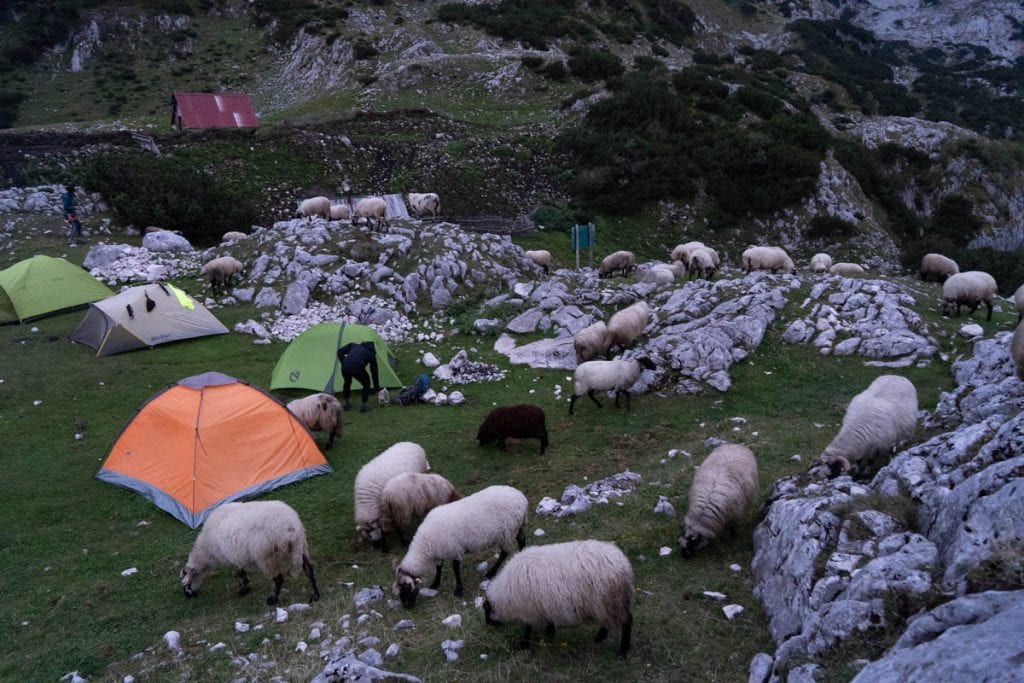 Day 2 - Katun Lokvice to Bobotov Kuk to Katun Lokvice
9 miles, ↑ 7,960 feet elevation gain (GPS Log. Missing 3 hours)
The morning was jarringly cold. While the backdrop of the mountains made for an epic view, it meant that our side of the valley was shrouded in darkness for a good half of the morning. I pulled on as many layers as I could find, regretting my decision not to pack gloves for the hike. We put on a light pack with essentials and left the rest of our stuff at the campsite. Definitely make sure to fill up your water bottles before setting out since we didn't see water the entire route (again all dried out! Or too hard to spot), and you'll be SWEATING before you know it.
We were immensely grateful the moment the sun rose high enough to thaw our fingertips. From there on, the sun's rays intensified and the climb got steeper, and by the top, we had almost shed all our layers. Almost two hours in, it was hard to believe that we were on the same day and climate as the morning. We crossed a quarry field, scrambling over large loose rocks, completely exposed to the relentless sun. To be honest, it was mainly thanks to Jaffa cakes and Mott fruit gummies that I was able to stay motivated on the long slog uphill.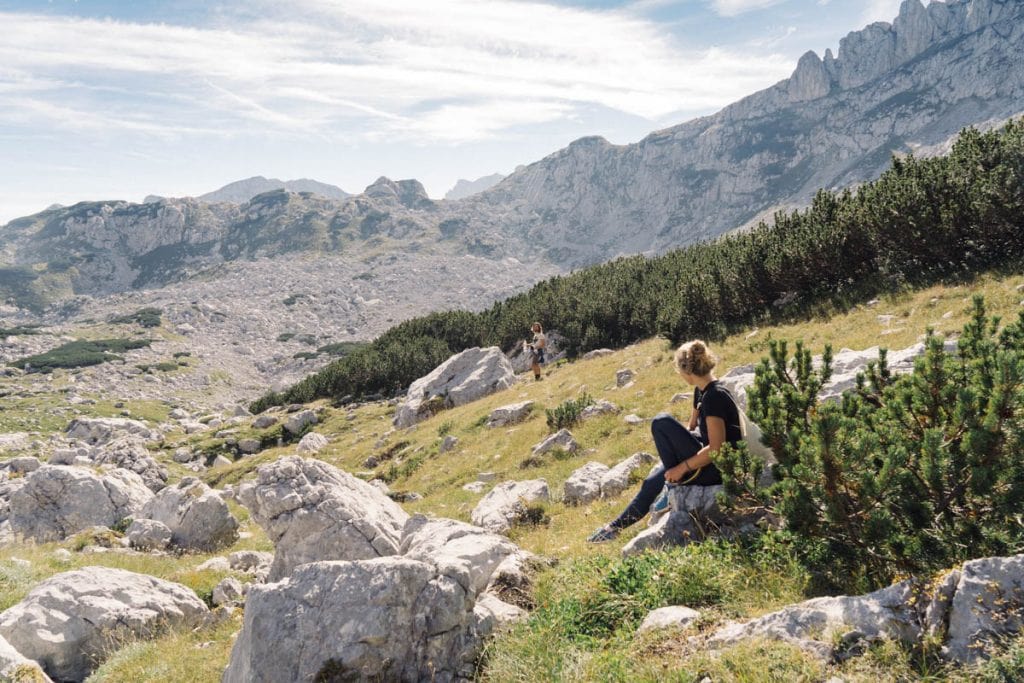 We decided to skip the ice caves due to its lackluster review from other hikers, who described it as a "Mere pile of snow. Barely." So, we charged straight towards Bobotov Kuk.
Nearing the top, you might be satisfied with the already incredible views and be tempted to call it a day, but I encourage you to continue because the views only get better. If you have a fear of heights or are prone to vertigo you might want to sit out the final climb up Bobotov Kuk. Otherwise, with the support of sturdy cable ropes, you can hike/haul your way up to the summit.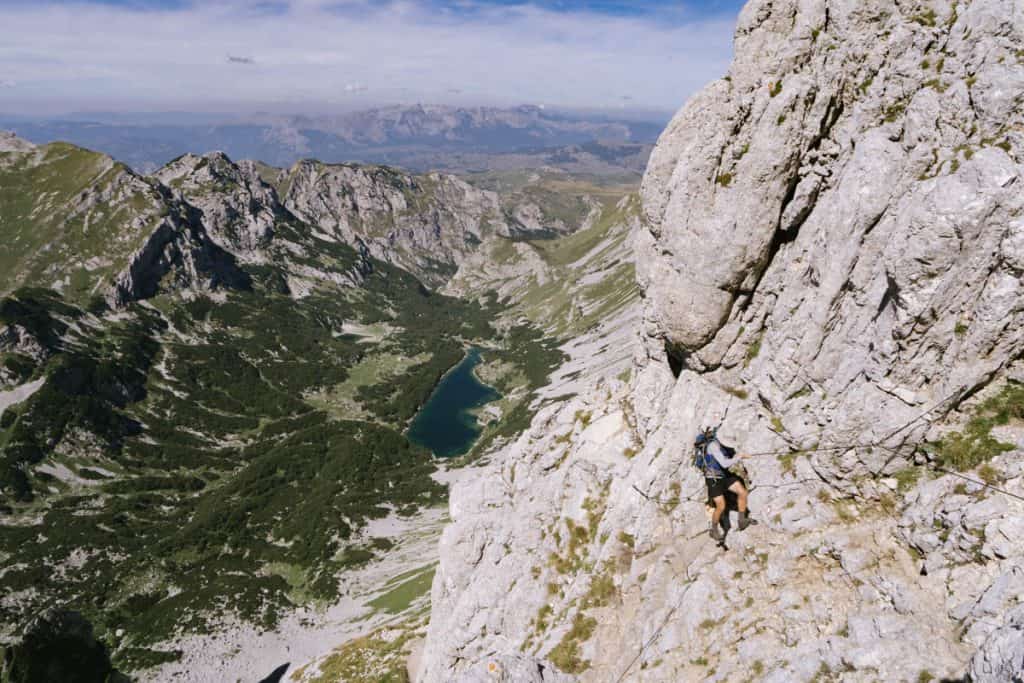 Bobotov Kuk's summit has a truly stupendous view — if you do a 360º you can see Montenegro, Bosnia and Herzegovina, and Serbia all from the same spot. Probably one of the most rewarding viewpoints I've ever had the privilege of witnessing. The mountains below have intriguing crepe-cake like folds that resulted when African plate collided with the Eurasian plate and crinkled and folded the surface of the earth. Bobotov Kuk was originally thought to be the highest point of Montenegro (at 2,523 m), but has since been dethroned by three other peaks in the Prokletije region. Nonetheless — it's still epic. We had a rewarding lunch and people watched for some time at the summit.
While I don't typically have a fear of heights, I'll admit going down definitely did give me the chills. One could argue that the path down is even more challenging than the path up. Scree is even more difficult to navigate going down. Definitely be cautious of how you descend, as loose rocks can easily injure hikers below. The descent is really where hiking poles come in handy for arresting potential falls. We saw many people slip on the way down, so take it slow and easy!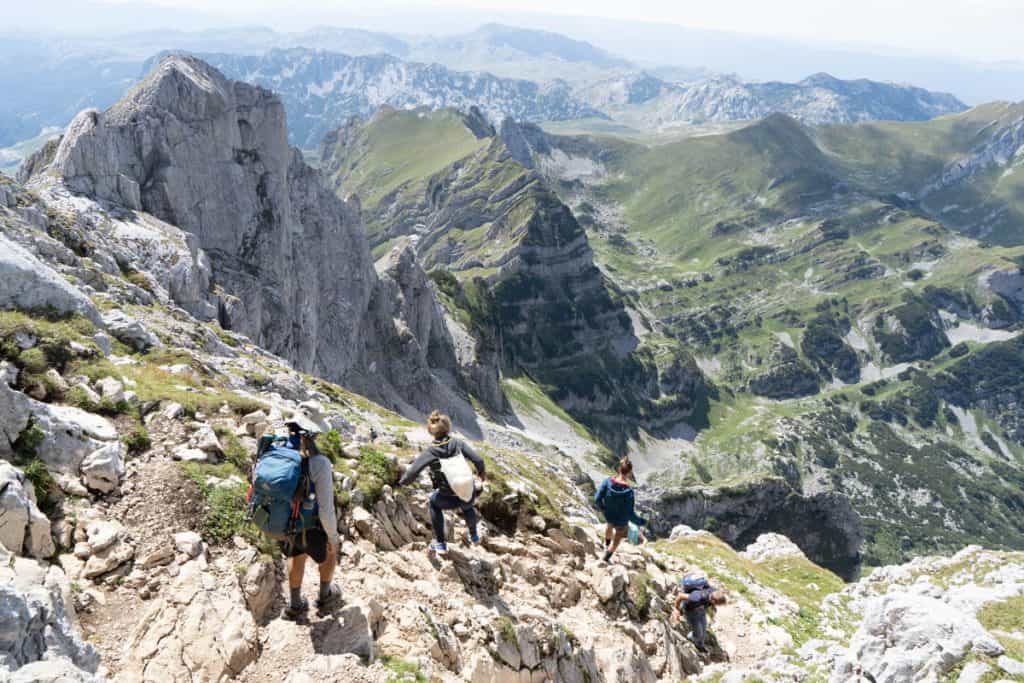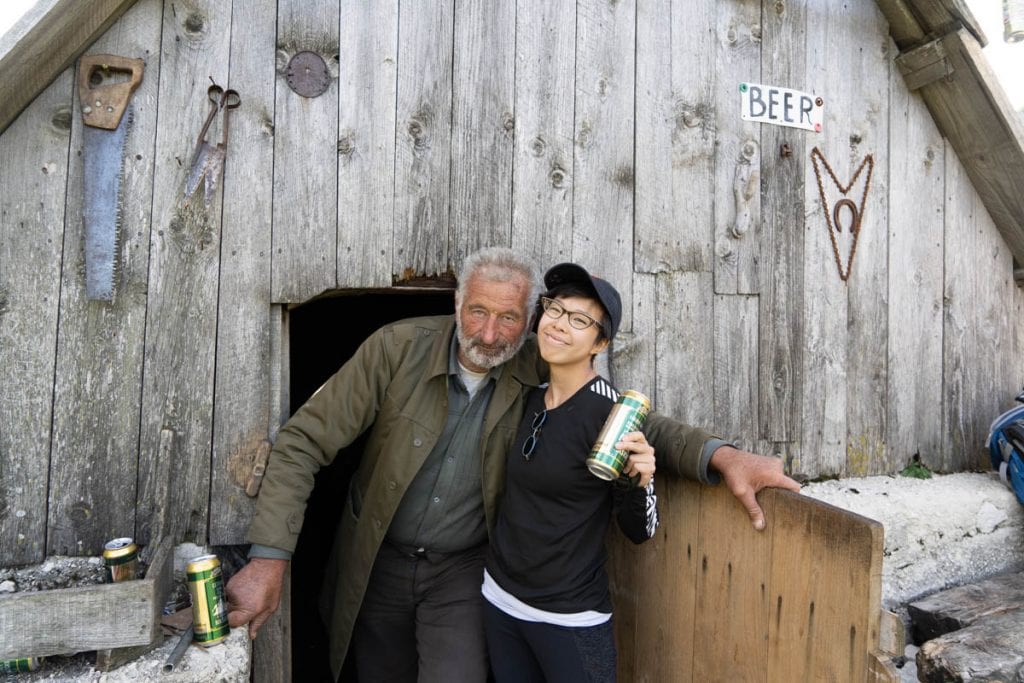 While we were tempted to stay another night at Katun Lokvice campsite with our new-made friends, we decided to pack up our tent and head back to Žabljak to get a headstart the next day. If you can, carry the beer/coca-cola cans you purchase at the campsite back down to recycle it. It's tough for the Katun Lokvice groundkeeper to transport any trash out so he makes a garbage fire near his home to burn all the cans hikers buy, so better to carry it out with you.
With our legs feeling like jelly after the long day, we treated ourselves to a nice meal at Caffe & Restaurant Or'O, which had a sleek ski resort vibe — food was great and a very hearty change from our last few stoveless meals. We ended the night at the nice and convenient cabin at Olja Guest House for 20 euros.
---
Follow our latest adventures on Instagram.