The 42-mile Rae Lakes Loop in Kings Canyon Sequoia National Park, is for some, the definition of type 2 fun. With bears, rattlesnakes, mosquitos, a glacial pass, and washed out bridges there was never a dull moment. Though, these are the same unforgettable views that inspired Ansel Adams might just be worth the adventure.
Distance: 41.2 miles
Duration: 2-3 nights (~14 miles/day or 10.3 miles/day respectively).
When: Late spring or early fall (we went June 11th).
Difficulty: Hard (early season), Moderate (late season).
Direction: We recommend counterclockwise, read on below to see why.
Good to know:
Wilderness Permits are required. You can reserve it 2-weeks in advance, but they also have ten first-come-first-serve day-of permits starting at 1 PM at Road's End ranger booth.
Bring a mosquito net and bug spray. They are relentless and will swarm you.
You need a bear canister. Luckily these are available for rent at the ranger station at the trailhead. For those ULW junkies, they also have carbon fiber ones available for rent at a higher price. You can return it at the collection site whenever you finish.
Wear long pants - these come in handy for many reasons: avoiding mosquitos, less risk of snake bites, and warding off ticks from the heavy brush.
Water filter - there are plenty of places to refill!
Sun protection - There are many spots where you have persistent sun exposure. At Glen Pass this is magnified by high elevation and the snow.
NPS has a great breakdown on campsites by distance.
Day 1 - Road's End to East Lake Trail
11.24 miles, ↑ 3,177 feet elevation gain (GPS log)
We went to the ranger's station at Road's End hoping to score a walk-in permit for Rae Lakes. By the time we decided to do the hike, it was too late to reserve online (2-week minimum), so we made a point to arrive at 1 PM — the earliest time permits were being issued. Luckily they not only had availability, but they also had bear canisters available to rent. Also, we were happy to learn that the marmot stowaways were less of a problem in this region of the park, so we didn't have to wrap up our car. We decided to go counterclockwise, namely because l like getting over the climb earlier than later.
The hike opens with a sandy trail, which soon fed into a wooded area. The wooded area had several areas that were recently charred and still smoking, but to our relief, there were signs that indicated that these were "controlled fires." After crossing a wooden bridge, we had to figure out how to cross Bubb's creek. It took some trial and error (unnecessary bushwacking and log crossing) to find that the best place to cross is further on the path east, where you'll spot a crossing with some strategically placed stepping stones. Here you can cross with the help of your poles without even getting your feet wet (?Also a great place to fill up for water).
Later in the day, the terrain opened up into a steep rocky sun-exposed climb. Emboldened by our fresh trail legs, we were walking particularly fast until we startled (and was in turn startled by) a two-foot-long rattlesnake that rattled at us before darting away. A passerby clearly had this on his mind, warning us, "watch out there are rattlers!" without stopping for a breath. Normally, the snakes dart away feeling the vibration of your poles, but be alert and examine crevices around anywhere you decide to take a rest.
Soon after the exposed ascent gave way to a cool wooded area, which gave us relief until a bear bounded across our path a few feet away. We instinctively started our bear dance complete with hiking pole moves. This dance was hilarious now that I look back on it. I am only 5'1" so trying to "look big" is tough and comical - the bear considered us from a distance, most definitely weirded out, and just kept walking without turning back.
⛺ We camped out around Junction Meadow near another solo camper.
Day 2 - East Lake Trail to Glen Pass to Dollar Lake
12.47 miles, ↑ 3,387 feet elevation gain (GPS Log 1, 2, 3)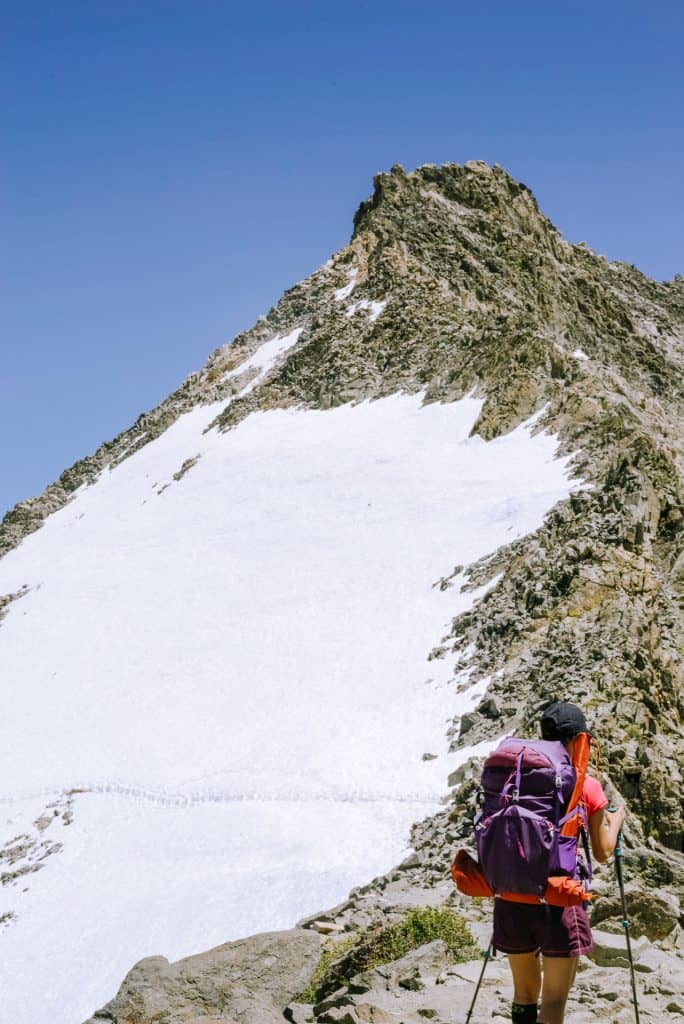 While we were excited to cross Glen Pass today (elevation 3,651 m, 11,978 ft), we heard so much contrasting advice that it was a bit hard to figure out when to cross it. Some told us to hit the pass early, to enjoy the benefits of stiff snow without post-holing, while others said later was better so that the snow wasn't icy and slippery. We ended up crossing around 1:30 PM, which in our opinion worked well with our hiking poles. The view from the pass was stupendous. We were flanked by craggy peaks, glacial lakes, and snow, but it was also windy, so we soon started downhill. We didn't see a single soul other than some birds and a chipmunk running in the snow.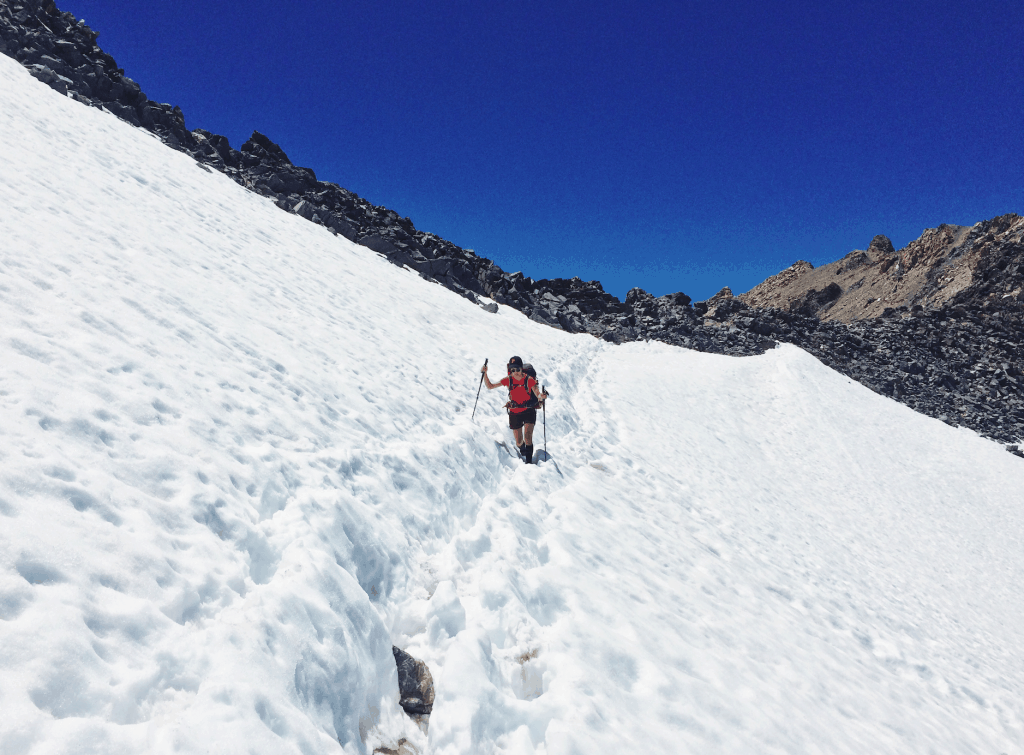 After crossing the pass, we were now going downhill and everything felt like a breeze. However, the mosquitos did become increasingly abundant, perhaps due to the number of lakes. Dollar Lake was particularly bad. Some of the clockwise hikers we met seemed to be plagued by the mosquitos — perhaps another reason to go counterclockwise (you pass through the "mosquito-lands" at a faster downhill pace). The mosquitos were probably the most intolerable aspect of the hike, and ultimately the reason why we shortened our hike to three days, instead of four. One hiker we met exasperatedly said, "I just want to get out of here."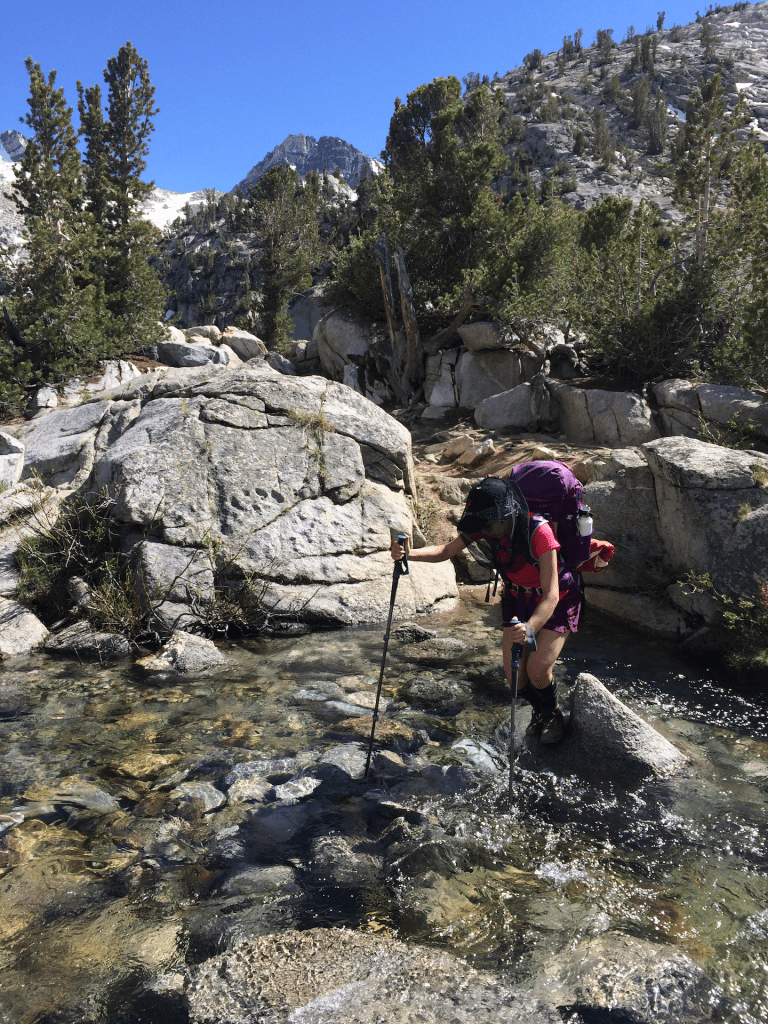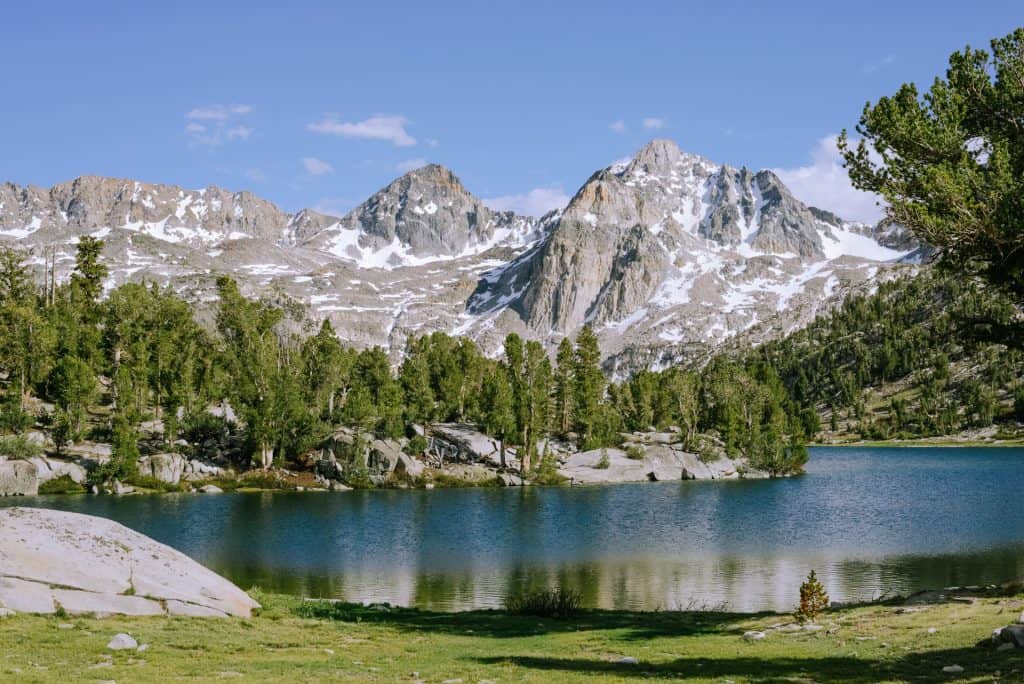 ⛺ We camped out on a high outcrop a little beyond Dollar Lake. It had an expansive view and a breeze that kept some mosquitos away. At night, excited to see the stars, I opened our tent and to my shock saw the third bear of the day a few feet away. Thankfully it seemed to mind its own business and we slept in peace, even the bear canisters were undisturbed when we went to check them out in the morning.
Day 3 - Dollar Lake to Roads End
18.28 miles, ↓ 4,310 feet elevation loss (GPS Log 1, 2, 3)

The most dramatic part of our last day was crossing the south fork of the Kings River. South Fork Kings River Bridge washed out and won't be replaced before 2019 (see latest trail updates). Earlier, our ranger had warned us to not to take the river crossing lightly — people have died while trying to ford this river. Before crossing unbuckle your backpack chest and waist straps, this way if you're swept into the current you can easily ditch your bag — giving you a higher chance of surviving. Properly stow your things and waterproof them if possible, and cross with shoes on. Luckily, as we were assessing where the best place to cross was, we saw another solo hiker across the river. We shouted intel about our respective sides and worked together to decide where to cross. After settling on an area we started wading into the freezing water. The rapids were strong, people might have easily been swept away with one miscalculated step. Hiking poles were helpful for bracing against the current and testing the depth of areas. Halfway through the crossing were two overturned trees, we walked across the first one, but had to climb over the roots of the second one to pass it. At this point, we met the other hiker coming from across the way and helped each other hold hiking poles so we could use our hands to clamber up the tree. We bid each other luck and did a victory dance after both parties reached solid ground on the other end. We bushwhacked for a bit to the trail path and took a break to dump the water out of my shoes.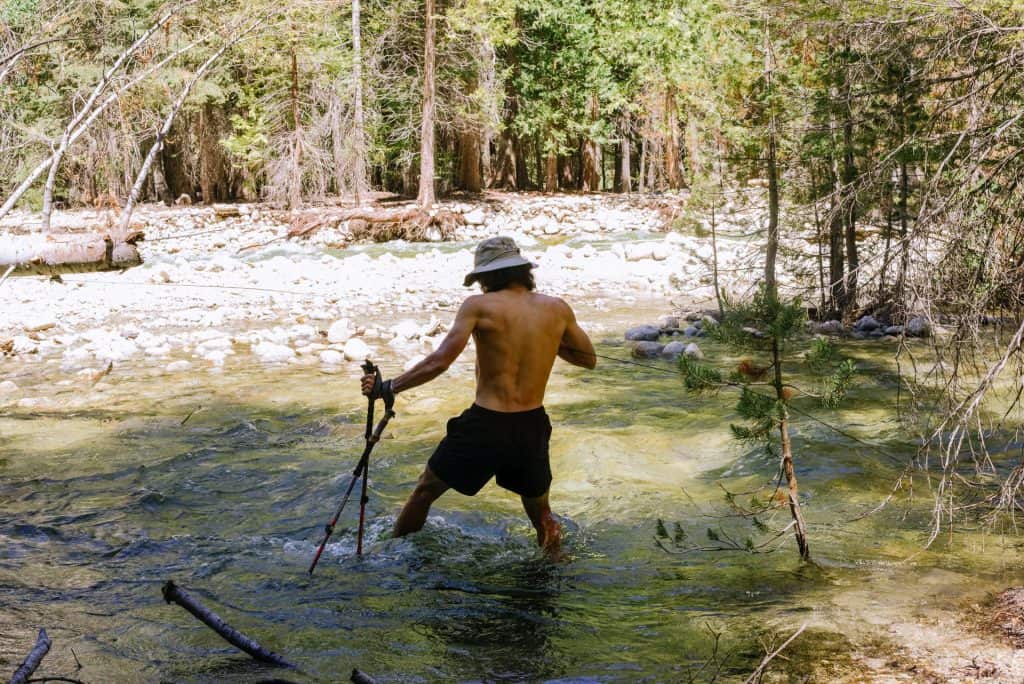 After some time the trail opens up into exposed rock for some time. Gradually we came across a blissful meadow, then roaring falls, and then one of the most epic views into the valley. Finally, it converged onto Kanawayers trail back to the parking lot, where we sped off to celebrate with an In-N-Out burger. The burgers were delicious.
---
Photos and words by both Vincent Ribeiro & Jocelyn Chuang. Follow our latest adventures on Instagram.