At 4,340 meters, Nevado de Colima (a.k.a. Zapotepetl or Tzapotépetl) is the seventh highest peak in Mexico and can be summited within 8 hours starting at Ciudad Guzmán. We had the whole trail to ourselves for the four-hour hike and enjoyed impressive views of neighboring Volcán de Colima along the way up. Volcán de Colima has a history of 40 eruptions (most recently in August 2017) and has deservedly earned the nickname Volcán de Fuego — for this reason, it is not hikable.
How did we get here? It started with an impulsive late-night decision to summit Nevado de Colima while staying in nearby Tapalpa. We foolheartedly entertained the idea of hiking the volcano ourselves when we couldn't find enough information online, but thankfully looked into hiring a guide after consulting others in Tapalpa. From there we connected with Gerardo from Nevado de Colima tours who luckily accepted our last-minute request for a hike the next morning.
At 10 AM, we met our guide Gerardo at Ciudad Guzmán's town plaza, where we picked up fresh carrot juice and tamales from the market square — and tortas as a lunchtime snack for the summit. While Gerardo has a 4WD vehicle available, he suggested driving up to the trailhead with our sedan. This is doable for someone who knows the road well (in Gerardo's case, 10 years of driving up and down the road), but otherwise, a 4WD vehicle recommendation is warranted. Parts of the mountain gravel road were undependable and at the end, our little car couldn't make it up to the 'official' parking lot and we had to drive down part of the pockmarked road backward to find a suitable place to park.
Upon entering Parque Nacional de Nevado de Colima we signed in and pay a small fee of ~30 pesos per person. At around 3,500 meters we encountered a locked gate (a recent addition), to which only guides and officials have the key - hikers who attempt to slip by the gate are typically told to turn back if caught by an official.
Gerardo studied conservation, eco-tourism, and is also a certified mechanic. As a result, he's knowledgeable about local environmental issues and questions you may have relative to the hike and its surroundings. He and the other residents of Ciudad Guzmán opened our eyes to the tremendous environmental strain that avocados have caused in their area. Because of the hip image cultivated around avocados, demand grows at a remarkable rate of 15% a year. This demand has, in turn, created massive deforestation in Mexico (at a rate of 2.5% a year) and pest fumigation has polluted local drinking water and suspected to be the culprit behind liver issues in the local population. With 40% of avocados being grown in Mexico, the country bears the brunt of USA's market demands. Just another reason why you should reconsider your avocado toast addiction. One of the residents actually introduced us to the chayote fruit, a more environmentally-friendly snacking alternative local to the region.
In more optimistic news, Parque Nacional de Nevado de Colima has invested in reforestation efforts, and nurseries of baby fir trees stretch out across the last meters before the trailhead. After parking our car, we walked up to the trailhead near the radio antennas and encountered a group of scientists who were monitoring the sounds of Volcán de Fuego. The area felt tremendously quiet from our perspective, but many of the sounds volcanos make are often below the frequency limit of human hearing, so we bid the scientists goodbye and let the devices do the listening.
Entering the brush to the right of the road, we began the hike in a temperate forest, surrounded by juniper and oak-fir. The trees soon thinned out and gave way to moss and zacatonales, marking the start of the alpine tundra. Beyond the entry point, the trail was devoid of signage and we would've likely gotten lost after entering the rocky area where it became less obvious where to walk.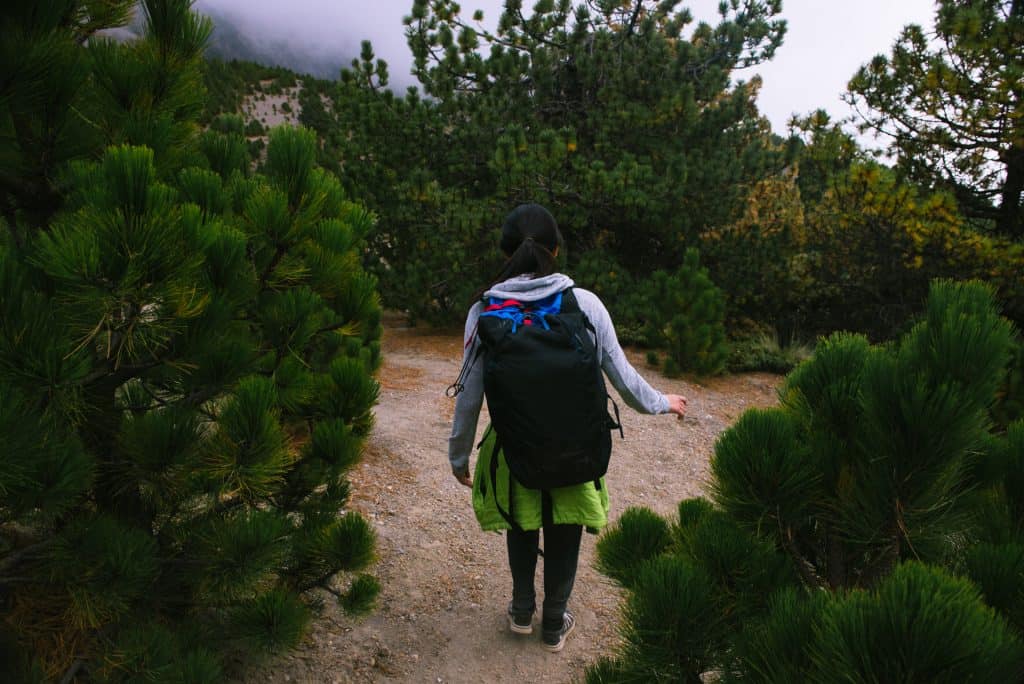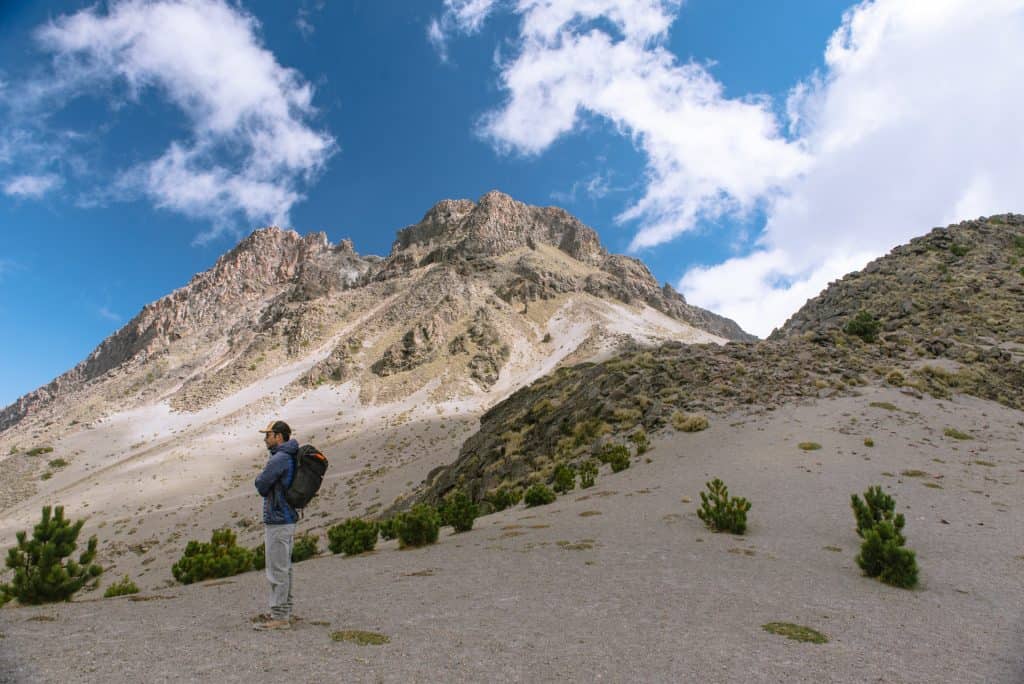 While not a technical climb, more care was required once we started ascending the mountain. I was thankful for the gloves Gerardo lent, as grasping onto the jagged holds made ascending much easier. We could easily feel the effects of the high altitude, as our breaths got shorter, though luckily we didn't experience any altitude sickness (other than a slight headache after the hike). We suspect that staying overnight at Tapalpa (1,950 m elevation) helped acclimate us. Whenever struggling through high-altitude hikes, I remember the advice I once heard in Peru to "breathe deeply as if you were smelling flowers" and continue to power through.
Fog and clouds occasionally rolled across the landscape, blotting out our view of Volcán de Fuego — our own fault really, as we knew that an earlier start ensured better visibility, but traded the views for some more sleep. While we read reports of Volcán de Fuego temperamentally exploding several times a day and saw photos of hikers with plumes of smoke in the background of their photos, the volcano was silent throughout our hike. Despite the dry months of November to April being peak volcano mountaineering season, we didn't see a single soul on the trail.During breaks, we simply sat and marveled at the quietude and texture of Volcán de Fuego. Recent lava flows and landslides etched lines into its slope, while vegetation settled into the grooves of lava flows.
Once we reached the summit we were treated to 360º views of the Colima Volcanic Complex and scarfed down our lunch by the Flagstaff that marked the summit. We sat and rested in the crater of the extinct Nevado de Colima for about half an hour before setting back down the mountain.
Going down was way easier than going up, we even dared running down the last stretch of the hill. Walking back to our car, we heard the sounds of woodpeckers and spotted mountain lion tracks in the volcanic ash. Apparently, pumas, tigrillo, and ocelots are all native to the mountain — though not frequently spotted on Gerardo's trips up the mountain. On the way down, we got pretty close to emptying our tank of gas which would have been disastrous — luckily we were able to get some additional fuel from the officials at the entrance gate of Parque Nacional de Nevado de Colima and got back to Ciudad Guzman just fine.
We ended the night with an impromptu Thankgiving dinner at a local taco place, filled up from the day's adventure, new friends, and delicious food.
---
The Rundown on Nevado de Colima
How long does it take?
Short way: 8 hour non-technical roundtrip hike - split between a 4-hour drive up the mountain and a 4-hour roundtrip hike.
Long way: 3-day roundtrip thru-hike. More information can be found here.
What to bring
Temperature transitions from hot to cold (70º F - 30º F in November) depending on your elevation and the shade — so layers are key. Nevado means 'snow-covered' for a reason, so prep for snow in the winter months. The terrain comprises of volcanic ash, so hiking shoes are ideal (but it's doable in sneakers!). Gloves are also helpful, as you'll often be grasping onto rocky holds as you ascend and descend. Gerardo, our guide, helped provide helmets as loose rocks from the sandy terrain can get dislodged as you ascend and descend.
Tips
Best months for climbing are the dry seasons of November through May. Start your hike in Ciudad Guzmán with a guide like Gerardo, since it's actually closer to the base than Colima. The earlier in the morning you start your hike the better, as there's a better chance of good visibility - also no cars are allowed up past 2PM. Bring change for entry to the national park - otherwise be prepared to get chocolates in exchange for change if the gatekeepers don't have change on hand. To check volcano conditions, one can peek the livecam and call Proteción Civil in Colima 1 (331) 45944, or as we suggest, secure a guide.
---