Finding solitude in Iceland is more difficult than it sounds.
While we're fed a steady stream of Iceland images that seem to be set in the remote wilderness, many of the famous sights and waterfalls are within 5 minutes walk of a parking lot or constantly inundated with selfie-stick wielding tourists. At times you even start to run into tourists – funny for an island that's 39,769 mi² (roughly the size of Maine). One man even remarked to me, "I can't escape the drone! I've been to three sites and the man flying the drone always turns up!"
Accessibility to natural sights is totally underrated – so I'm glad Iceland does a great job of it. However, for those who are looking for some more solitude it often means spending a bit more to rent a 4WD to get into the highlands or strapping on hiking boots. Being on a tight budget, we opted for the latter.
We seized the opportunity to go on a long hike after finding out we had a rare Autumn day of 100% sunshine coming up on via vedur. Our spur of the moment ambition to hike to Þorsmörk, led to some frantic mobile phone research, while pressed against a closed wifi-emitting booth at 11 PM the night prior. We ditched the idea of hiking there from Seljalandsfoss, and opted for the more conventional Fimmvörðuháls trail (aka Five-Cairn Trail) that starts at Skógar.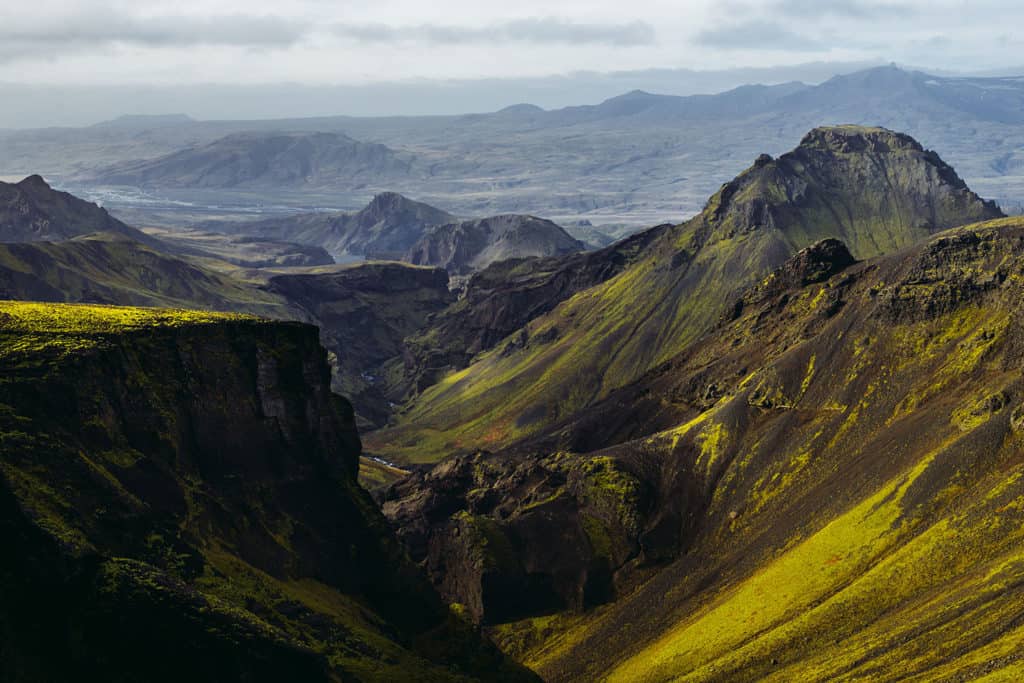 Common FAQs about Fimmvörðuháls.
Fimmvörðuháls was perhaps the most demanding, yet subliminal hikes I've ever done. You start by climbing to the top of Skogafoss and for some time, you can slake your thirst with glacial run-off that's tumbled down the numerous waterfalls you'll encounter.
Then incredible wind. The scenery transforms into otherworldly hues, as you pass Magni and Móði – spawned by Eyjafjallajokull's 2010 eruption.
A monochromatic landscape dramatically opens into the lush vista of the Land of the Gods (Goðaland).
Cat's Spine (Kattarhryggi) calls command of heights, with a real risk of teetering off the either side of the ridge. It's flanked by velvety hillocks and a craggy primordial landscapes.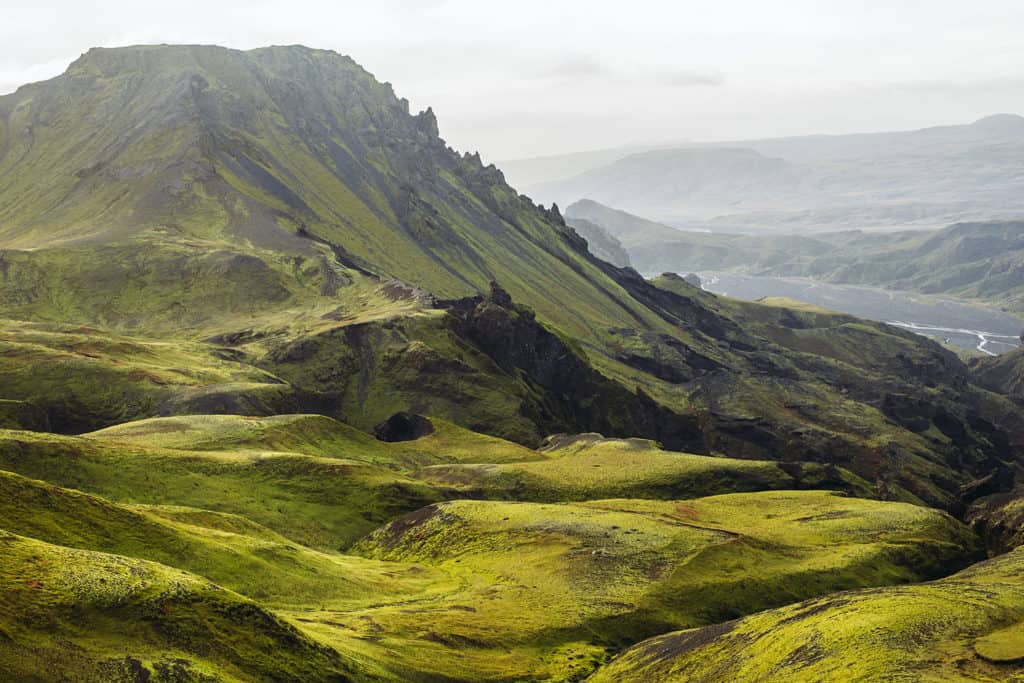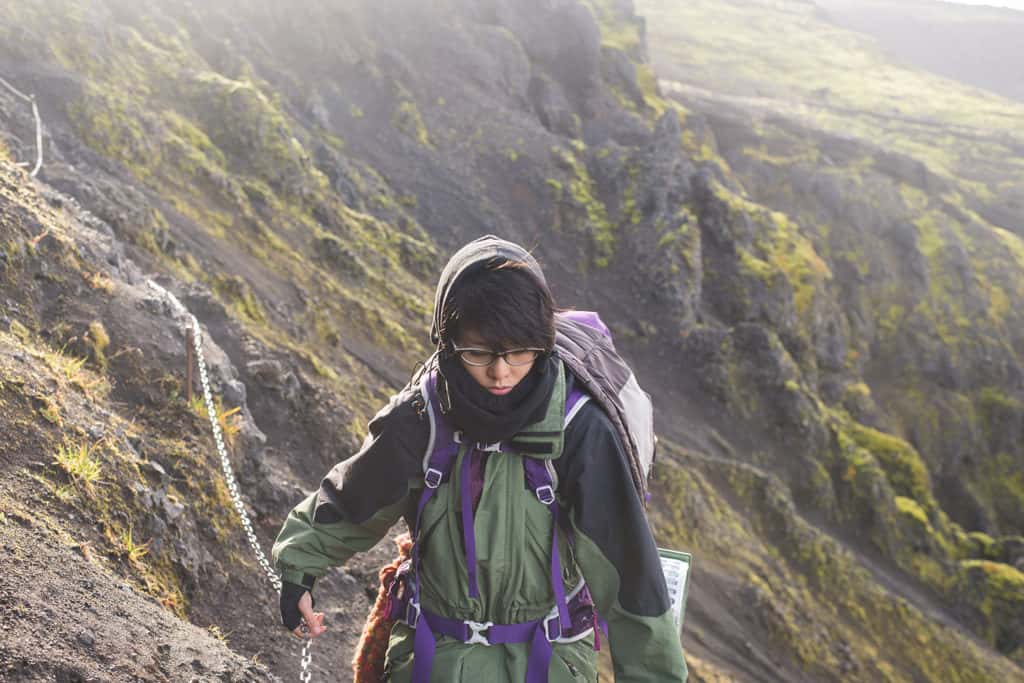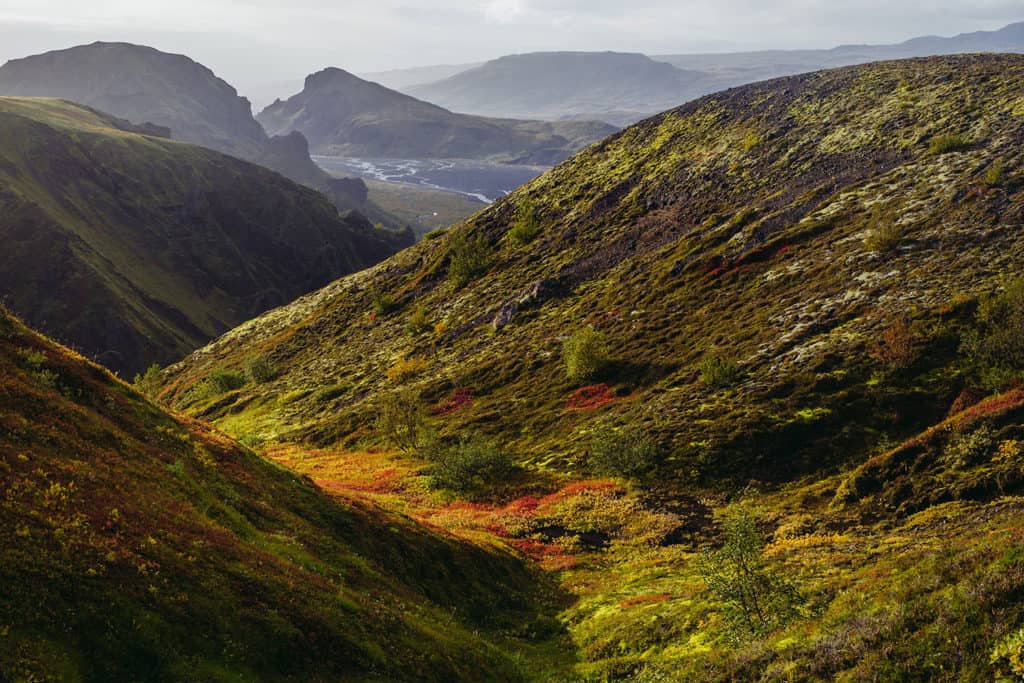 By the end of Fimmvörðuháls I was definitely on auto-pilot, footslogging my way through due to dehydration (eat sodium-heavy camp food in moderation), though the intoxicating feeling of drifting between planets and fiction is something I'll remember for a lifetime.
We reached an eerily empty Básar at the end of the hike – and as if on cue, the sun set behind the mountains. Soccer nets and burnt campfires seemed frozen by the arrival of autumn, however; fresh bananas in the trash and an up-to-date weather report hinted live habitation. What looked like complete abandonment of the site meant we had our top pick in terms of camping spots. We got to work setting up our tent and cooking ramen and ginger tea for the night.
Despite our minimal packing goals, at the end of the hike, I realized that John McPhee's The Control of Nature
hitched a ride in my backpack. Luckily, the stories of how humans have made foolhardy, cartoonish, and sometimes "successful" attempts to tame nature made for the best tent read-aloud. The chapter Cooling the Lava, an epic hail mary involving dedicated manpower and puny water hoses to stop lava from reaching an Icelandic harbor, seemed fitting to read while nestled in the shadow of Eyjafjallajokull.
---
Photographs by Vincent Ribeiro and Jocelyn Chuang.
Other great resources that cover hiking Fimmvorðuháls can be found at Spice & Dice, Iceland for 91 days, and Alex Buri's write up on KimKim.