From Valizas, we crossed the ever-changing dunes of the national park to reach Cabo Polonio (El Cabo), where the wind carries the cries of sea lions and where dolphins surf by the shore. Lit mainly by sun and candlelight, the darkness of the night is only interrupted by the rhythmic sweep of the lighthouse beam. A breezy 2-hour walk brings you off the grid to one of the wildest parts of Uruguay's coast. Read on for details.
Good to know:
Distance: 5.1 miles (8.2 km). GPS log.
Duration: 2-3 hours
Difficulty: Easy
Bring water. There are no water sources until you reach Cabo Polonio.
THE SUN IS NO JOKE and there is no shade. Bring sun protection (sunscreen, hats, etc.) and start your hike early or after 4PM to avoid the effects of the strong sun. Remember that major hole in the ozone layer over the South Pole? Yep.
Bring headlamps or flashlights. There's no electricity in town, so this helps for navigating after dark.
Bring cash. There are no ATMs.
Bring tampons/pads. I don't think I saw a place to purchase these products.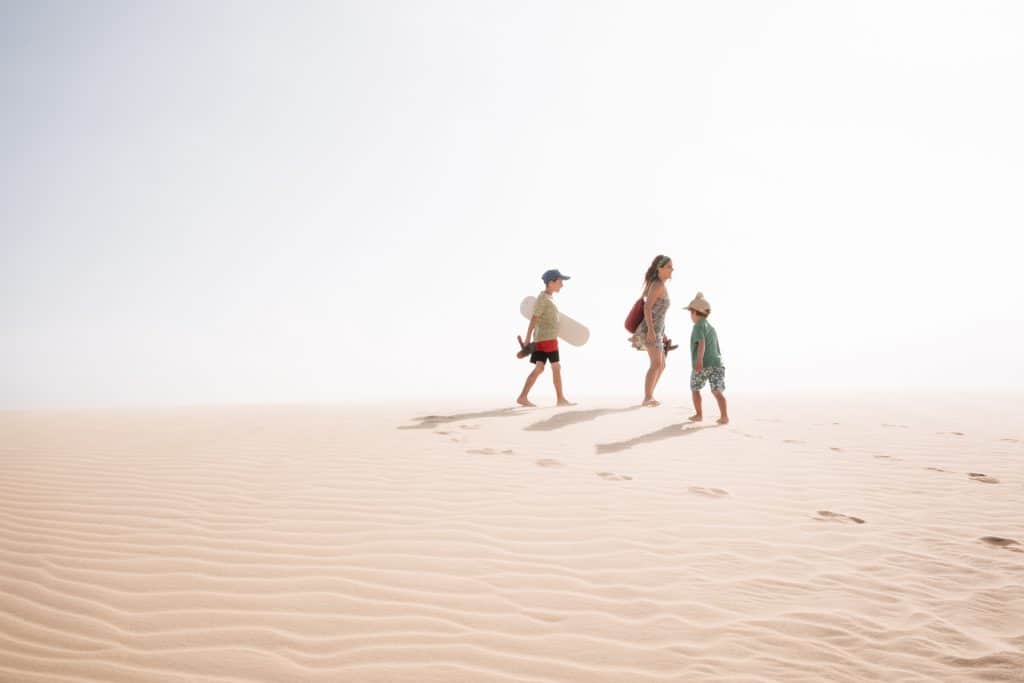 On New Year's Eve, we decided why not start the new year with an adventure to Cabo Polonio? Vincent had visited a few years ago and fell in love with the secluded beach town that was famous for its relaxed atmosphere and lack of electricity and running water. We hastily looked up last minute Rutas del Sol bus tickets and lodging options, but it seemed like the odds were stacked against us — in the recent years Cabo Polonio had become a popular destination for Uruguayans, Brazilians, and Argentines and we were entering the short peak season. None of the bus tickets to Valizas could be purchased online and we couldn't reach them over phone. In a last-ditch effort, we headed to Terminal Tres Cruces in Montevideo to see if we could buy tickets in person since we had heard that sometimes they issued standing tickets when seats were sold out. As luck would have it, we were able to buy early 6 AM tickets to Barra de Valizas from the ticket counter. Apparently, you can only buy early January tickets in person since they're in such high demand. With the station wifi, we booked the last available Airbnb and crossed our fingers hoping we would have a place to stay.
Fast forward through all the NYE lechon and fireworks, we hauled ourselves out of bed after 3 hours of sleep and headed to the bus station. Luckily, the Rutas del sol bus was decadent in comparison with Megabus — it had full reclining seats and we easily slept through the 6-hour bus ride. As we rolled into Valizas from the main highway, we spotted several hitchhikers competing for a ride — a duo even had their guitars out and was strumming a song to woo passing cars. When we got off at Valizas, we found out there were only 3 ways to get to Cabo Polonio:
A two to three-hour hike.
Wait for the next bus to take you to Cabo Polonio's visitor center and take the 4x4 truck to bring you to the beach town. If you don't want to hike, you should actually buy a Rutas del Sol ticket to Cabo Polonio, not Valizas, this would remove this extra step.
Face the tough competition and hitchhike to Cabo Polonio's visitor center, then take the 4x4 truck. The last option was the least appealing, it required a walk back to the main highway, stiff competition and also at midday there likely very few cars headed that way.
We decided to head to Valiza's beachfront cafe La Proa to grab a bite and think through our plan. In this area, the must-order is Buñuelos de algas, which is essentially super crispy and DELICIOUS seaweed tempura. We hung out there and then people watched for a few hours. Barra de Valizas lends itself to more commercialism because it's reachable by car, there was an eclectic crowd of families, beach hippies, and backpackers.
By 4:30 PM, the heat subsided and the shadows mellowed, we decided it was time to start our hike (the sun is no joke here so time your hike carefully). We grabbed a generously proportioned milanesa (chicken cutlet sandwiches) snack from the supermarket and started on an in-land road that ran parallel to the beach houses. After five minutes, the road opened to an expansive view of the river crossing that we were warned about. It was completely different than what I imagined, it looked more like a yawning sandbar rather than a river that fed into the ocean. Kids played in the middle of it and people crossed it at all different points, with some areas deeper than others. Here you have two options, you can pay for a riverboat to take you across for a small fee. Or you can do what we did, hike up whatever you're wearing, hold your backpack over your head and cross. Some beachgoers helpfully pointed us to the shallowest section, and while the water reached my chest in some areas (I am short), the water was lukewarm and gentle, making for an easy crossing (nothing like the High Sierra's river crossing I had braced myself for).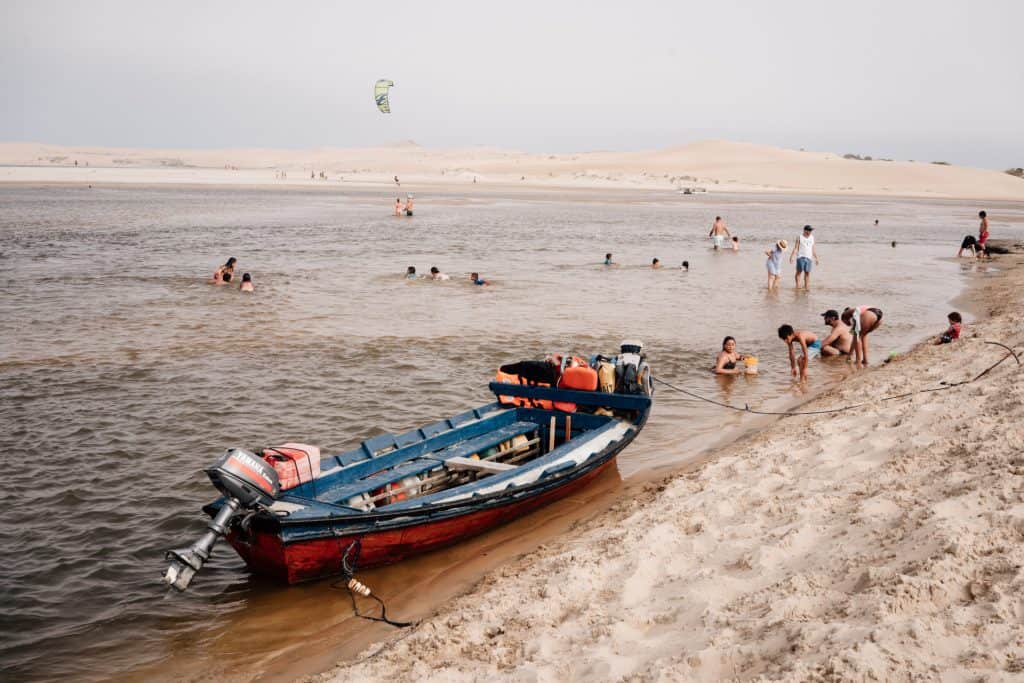 Once we padded ashore the dunes seemed to stretch on forever, only punctuated by the ant-like people playing across its surface. Here you can go as the crow flies, cutting straight across the dunes for a shorter route, or you take a longer route that hugs the coast. I recommend the former, as it gives way to a diverse landscape and gives you a chance to explore some of the tallest dunes in South America (there are literally sandboarders that come here)! Also, as long as you have Google Maps or some sort of GPS or make note of where your shadow is — it's not so expansive that you'd get lost. After some time, you will see Cabo Polonio's famous lighthouse in the distance, making it an easy beacon to follow.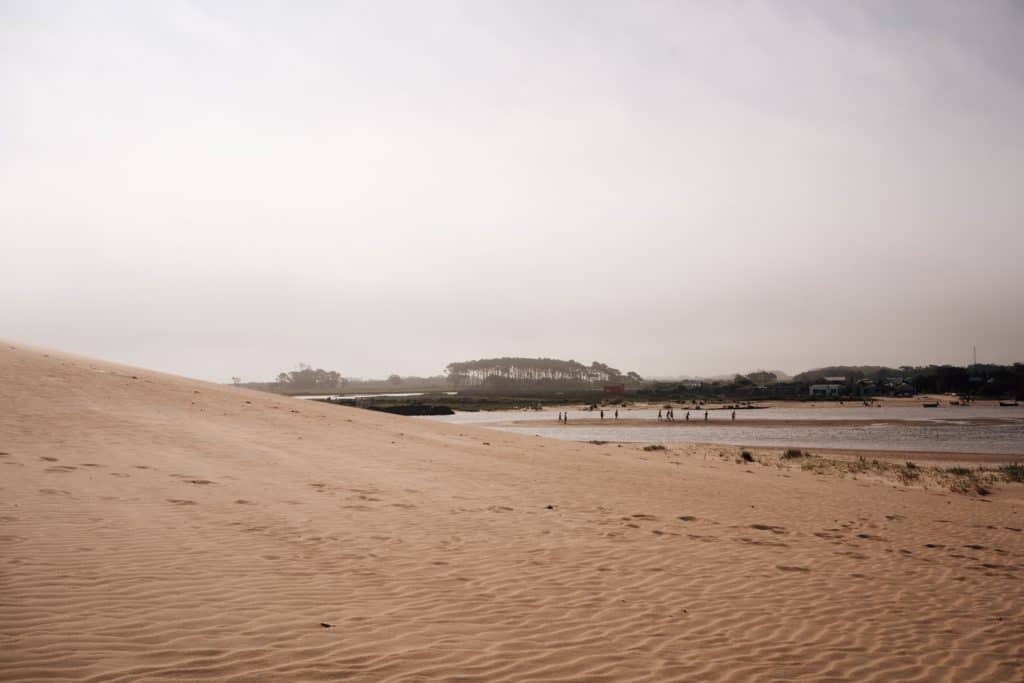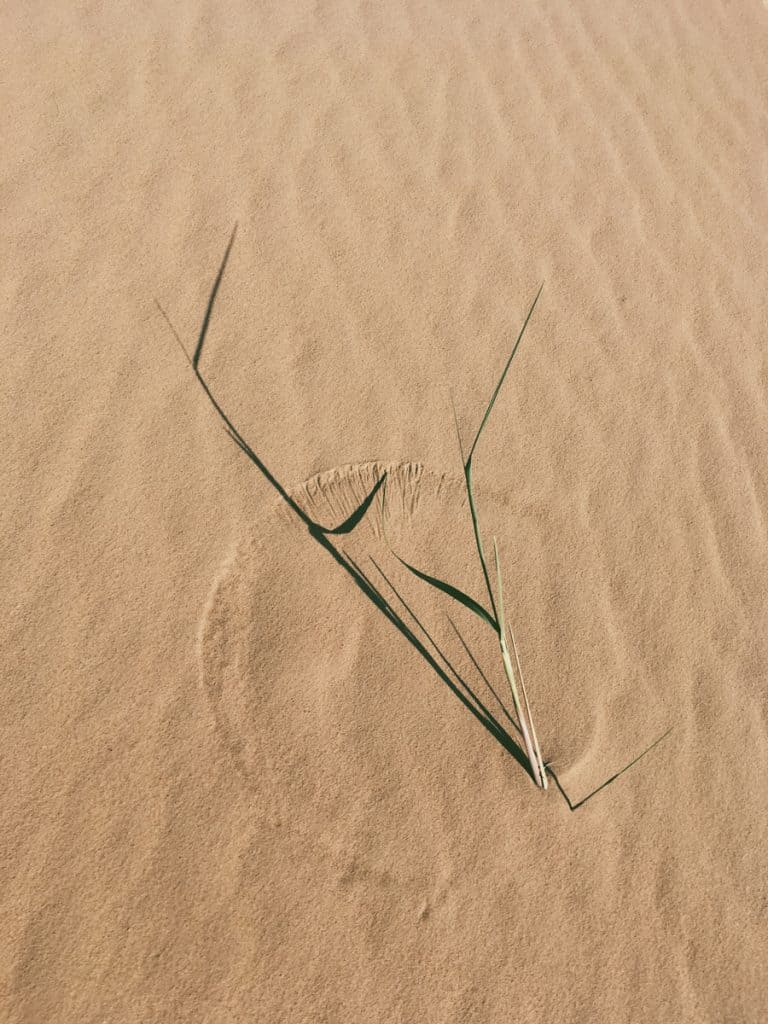 As we hiked, the wind was literally wicking the sand off the dunes, casting a dreamy glow and quickly covering up each step we took. Here they call them 'dunas móviles' as they seem to have a life of their own. It was only at the top of the dunes when I realized how unique the landscape was, to our right was a stretch of sand that crept into the river and beyond that a grove of trees. The path ahead of us resembled a Martian landscape, with moon rocks submerged in the sand. We went barefoot as long as until we hit the swamp-ish looking grounds that had some thorny plants. It was here that I RANDOMLY felt this shooting pain in my arm and looked down to see a windswept wasp that had landed in my arm stinger-side down. This sucked, but for some reason was more funny than painful and it was better than the time I fell on stinging nettle in Peru. After a certain point, it became easier to walk barefoot on the tightly packed sand by the waves. Here we began to see the occasional sea lion carcass. South American sea lions and Patagonian sea lions have flocked to El Cabo, taking up residence by the lighthouse, and their wails can be heard throughout the town.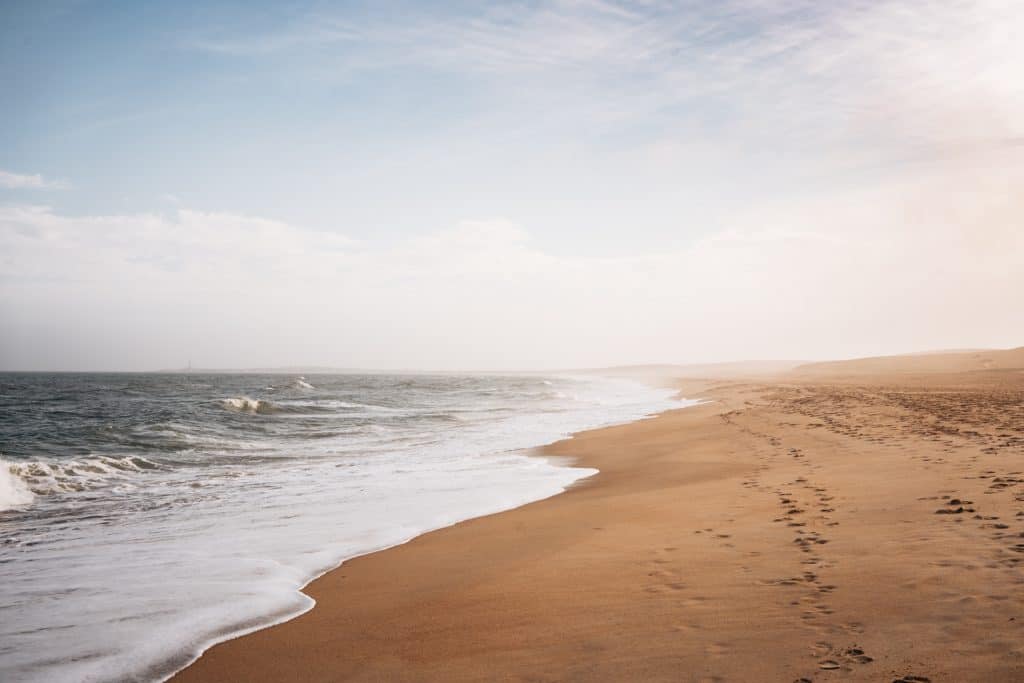 Two hours later we neared the town, our place (which is unfortunately no longer on Airbnb) was one of the first houses we passed. The house had a structure for aerial silks and felt simultaneously more luxurious than people had described for what you'd find in El Cabo, but also basic for a $95/night room. We had a bedroom and bathroom light and a communal shower that gave warm running water (all connected to the electric generator).
El Cabo's reputation preceded it, people described a raw landscape and idyllic hippie commune of sorts that was marked by no electricity and no running water — the perfect place for people looking to get off the grid. Some of this was true, time felt slower, untethered horses meandered gently through the meadows, dolphins played by the shore, people walked barefoot to centro, and nightly paths were lit by candles in wine bottles. At the same time, it was also becoming increasingly hip and bohemian-chic, there were pricier restaurants, fashionistas that wore Missoni to the beach, and vegetarian restaurants (surprising for a small beach community considering that Uruguay is after all the world's biggest beef consumers).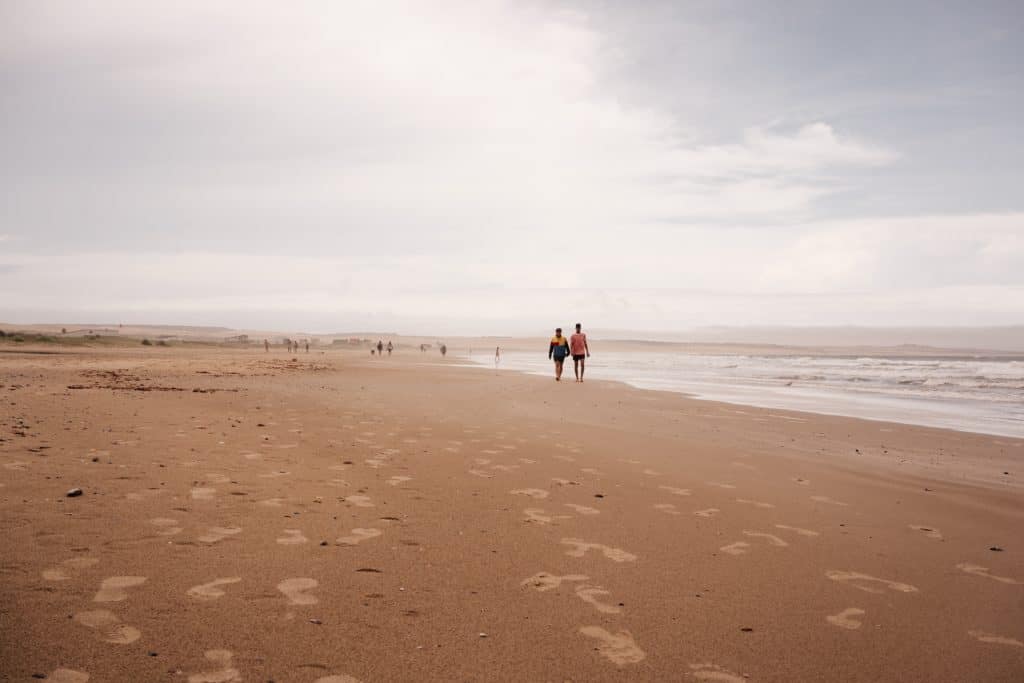 When I think back on it, I don't think we really did anything, which was the point. Lulled by the waves and pace of town our day of lounging was punctuated by eating, reading, and walking. I imagine it'd be the perfect place for a writer to retreat to. Perhaps the most daunting task was finding wifi to figure out if Vincent's plane was leaving the next or following day, in which a posada owner kindly lent us her mobile hotspot — otherwise, don't expect to have access.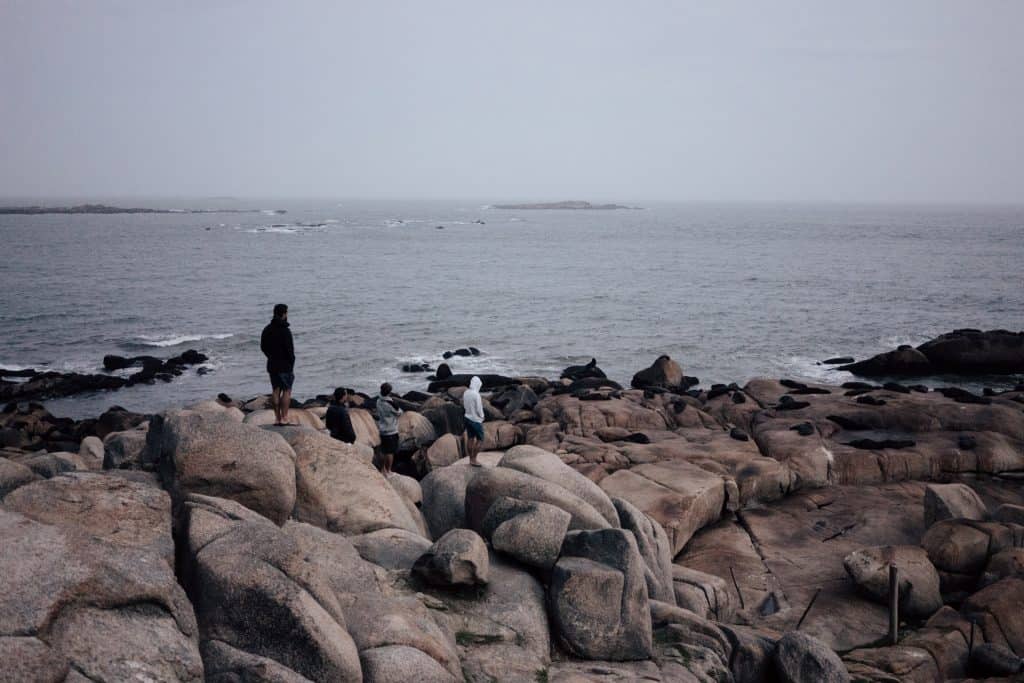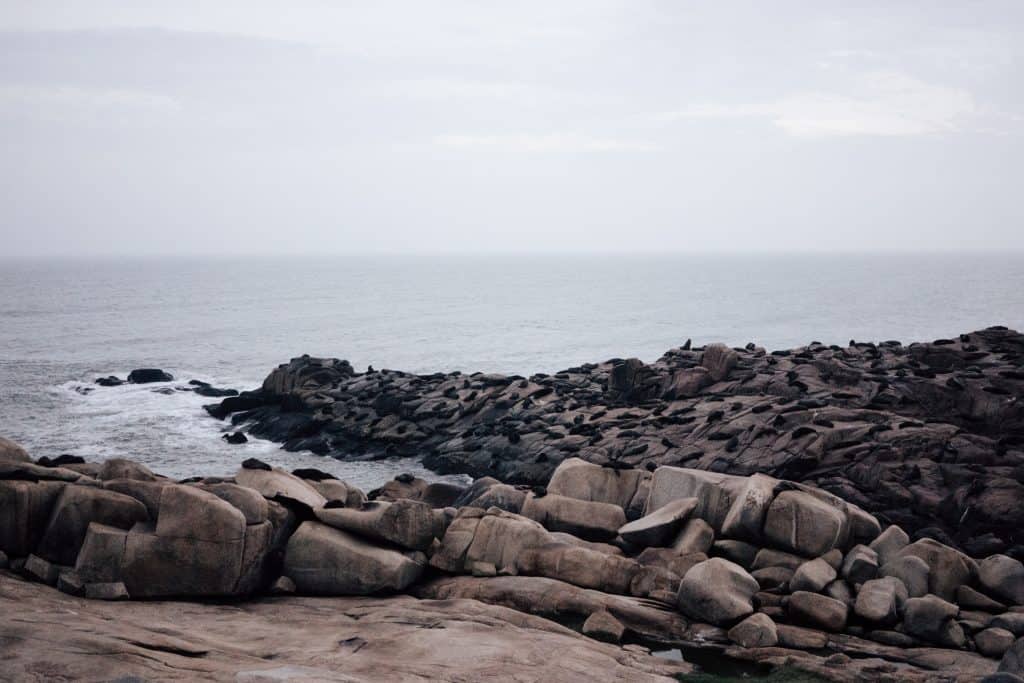 The most exciting moment was a relentless tropical storm that swept through and caught us at the bus station. Strangers alike huddled together for shelter and at the end of the day we ran back to our place blinded by the rain and crashing through huge puddles. My favorite treats were getting the handmade alfajores de maizena and ginger squash tamales from the supermarket. The days we went were misty and windy so we didn't go swimming, but there is apparently a "surf side" and a "swim side" of the beach for El Cabo. I'm not sure which is which, but for reference, the northern Playa Calavera (named skull beach — legend has it in 1892, the Brazilian battleship Solimões was shipwrecked and the bodies of 123 sailors washed ashore) is marked by two fishing boats on the shore, and the southern Playa Sur is where you go to see sunsets. We didn't see any surf rental places near Playa Calavera, but for those who bring their boards, it's apparently normal for sea lions to surf alongside you!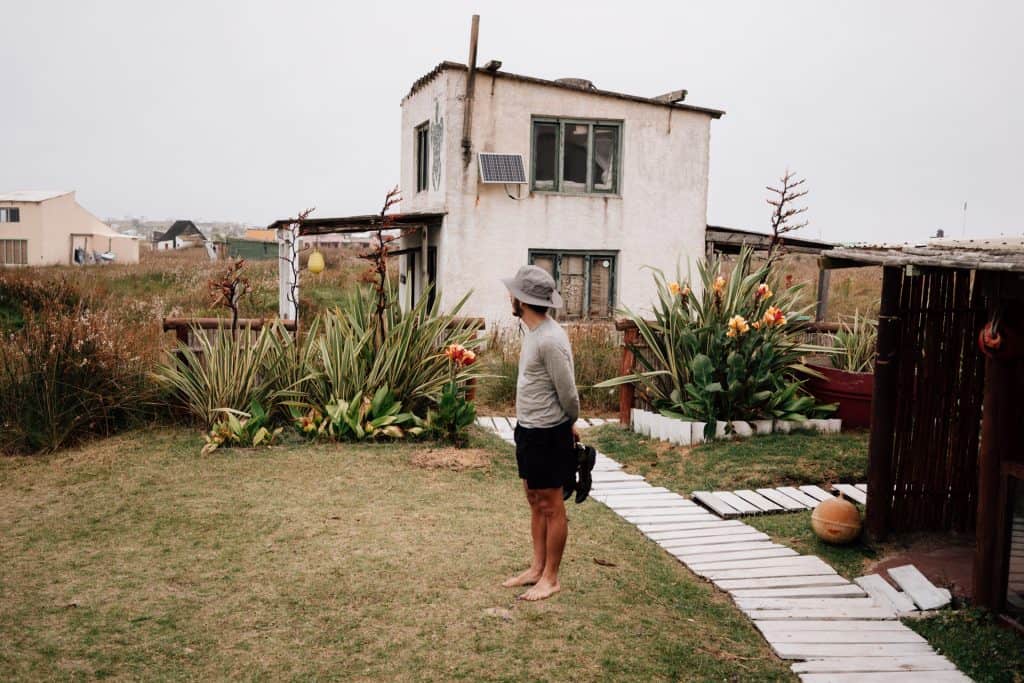 Getting there: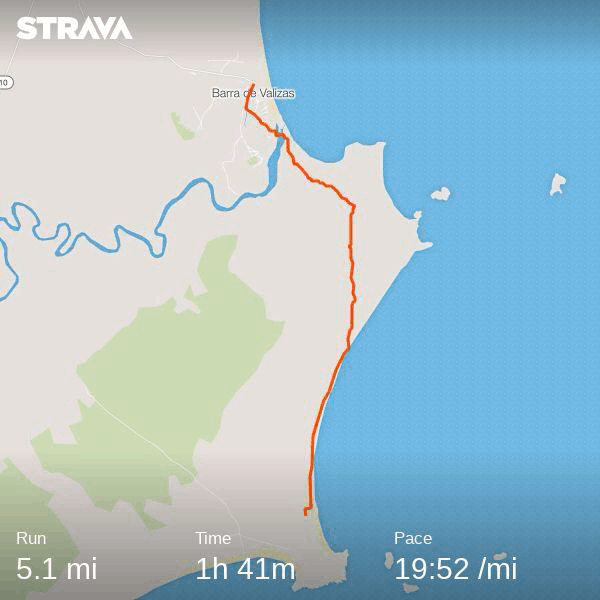 To do the 2-3 hour walk, book a morning ticket to Barra de Valizas from Rutas del Sol from Tres Cruces bus station in Montevideo. To get to Cabo Polonio by car, book a bus ticket to Cabo Polonio instead and take the doubledecker 4x4 truck to the actual town. IMO the hike was the highlight of the trip. You can get the best of both worlds by hiking there and taking the truck out.
Note, there is a Rutas del Sol booth in the town of Cabo Polonio so you can buy and modify bus tickets.
Where to stay:
I don't believe you can camp on the beach and lodging fills up pretty quickly due to the short season. There are many hostels. El Cabo is pricey — expect~ $90/night for a private room.
---
Words and photos by Vincent and Jocelyn. Follow our latest adventures on Instagram.